We're Committed to Providing the Most Outstanding Customer Experience EVER.
Smart Choice Cleaning is an award-winning,  family-owned, and locally operated professional cleaning company based in Springfield, Virginia.
Smart Choice Cleaning offers carpet cleaning, upholstery cleaning, maid and janitorial services for residential and commercial properties, tile and grout cleaning, and floor stripping and re-waxing.
We are fully licensed, insured and bonded to serve residences, businesses and nonprofit organizations in Northern Virginia.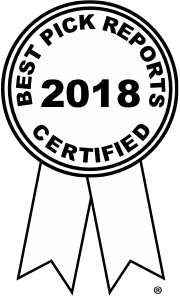 What Sets Smart Choice Cleaning Apart?
Reputation: Smart Choice Cleaning is recognized for providing the most outstanding customer service in the area. We have also been listed in the Best Pick Report, in Fairfax, Arlington, Prince William and Loudoun County from 2012 to 2017. We serve as the exclusive cleaning service for many Realtors, home remodelers, and flooring retailers in the area.
Guarantee: We offer a 100% money-back guarantee for our cleaning.  If you are not completely satisfied, we will rush back at no charge to address your concerns. If you are still unsatisfied, we will honor our 100% money-back guarantee.
Experience: Smart Choice Cleaning is experienced in both residential and commercial cleaning, including carpet and tile cleaning, residential maid services and commercial janitorial services and much more.
Systems: Smart Choice Cleaning uses the most advanced systems and cleaning technologies in the industry. We developed our own unique, 12-step carpet cleaning process, using truck-mounted cleaning equipment.  In addition, we have a unique house cleaning process proven to save our clients time and money. Our maids use our top-to-bottom, left-to-right, in-to-out, dry to wet cleaning method. We also use a comprehensive communication system that allows us to ensure accurately scheduled service and to maintain outstanding customer service.
Education: We believe that continuous education and training is key to ensuring we are using the latest techniques and following the highest quality standards for cleaning to ensure an outstanding customer experience.  All Smart Choice Cleaning field technicians attend weekly training sessions and in-house meetings. Smart Choice Carpet cleaning technicians are IICRC certified.
Services We offer:
Carpet Cleaning

Carpet Protection
Stain and Spot Removal
Pet Stain Treatment and Deodorization
Tick and Flea Treatments
Odor Removal
Deep Cleaning

Hardwood Cleaning

Finish Protector Application
Maintenance Program

Tile and Grout Cleaning

Deep Cleaning
Agitation and Scrubbing
Maintenance Program

Upholstery Cleaning

Stain and Spot Removal
Dust Removal
Odor Removal
NewFurniture Protection
Fabric Protection
Speed Drying

Maid Service

Weekly, Bi-Weekly, and Monthly Cleaning Service
Move In and out Cleaning
Post Construction Clean-up
Inside Appliance Cleaning
One-time Cleaning
Window Cleaning
Before and After Event Cleaning
Deep Spring Cleaning

Water Damage Restoration
Mattress Cleaning